Page 1 of 11
Previous Next
Who wants as much visibility, needs a top placement on Google. But which domains dominate Google search in the largest markets in the world? We'll tell you that in our weekly ranking. There are a few surprises.
Constant updating and a user-friendly performance help a domain to success. That explainsDaniel Furch. He works as Director Marketing EMEA at Searchmetrics, making him a recognized SEO expert.
The most successful domains in the world
Of course, there are thousands more factors that affect Google's ranking. In addition, the Google algorithm works differently in each country because it responds to local behaviors.
Nevertheless, there are a few domains that get a front ranking on Google in almost all relevant global markets. The strongest addresses of these markets are almost Searchmetrics every year in the SEO World Ranking.
The analysis covers Germany, Brazil, France, Italy, Austria, the USA, Switzerland, Spain, Turkey and Great Britain. What are the most successful domains in these countries, you will find in our weekly ranking.
10th place: Eksisozluk.com
Tenth place is occupied by the Turkish social network Ekisozlouk. The website acts as a dictionary and forum where registered users can post and upload entries as they wish. Unlike reputable encyclopedias, however, these contributions do not have to correspond to reality, but can also be fictitious.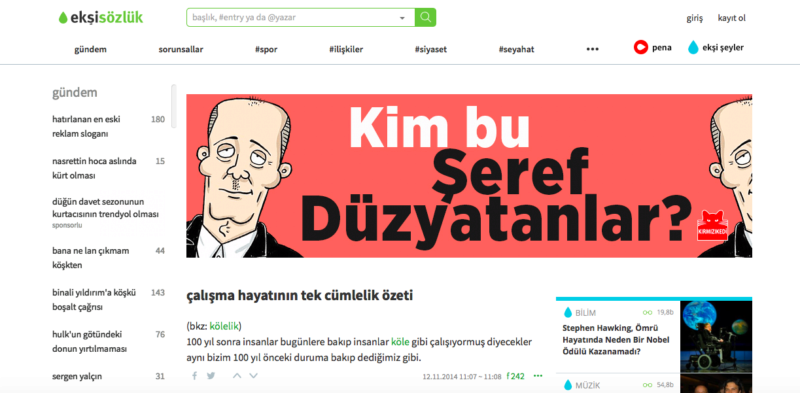 10th place: Eksisozluk.com. (Photo: Screenshot / Website)
Go back and forth with the arrows under the heading.
---
Your job market in the digital world

We do what we love every day. You can do that too! Over 20,000 dream jobs in the IT and digital world are just waiting for you in the BASIC thinking job market. Just take a look and discover!
Also interesting for you
About the author
Andrea Keller
Andrea works alongside her studies in a Cologne online agency and as a freelance journalist for daily newspapers and blogs. Her main topics are social media, politics, society and sports.