Data is lost whenever you least expect it. And usually there is no back-up available. Therefore, be sure to play it safe in time. The free tool EaseUs Data Recovery Wizard helps you to recover long-lost and deleted data.
Over time, so many things accumulate on our smartphones and computers: photos, videos, documents, PDFs, contacts, music files and so on.
So as not to panic and visit a specialist in recovering lost files, there are intuitive solutions that bring our beloved digital data back to the actual location.
Restore data quickly and easily. On every device
The ToolEaseUS Data Recovery Wizard recovers deleted files if they have been removed by software or hardware errors. In its use, it is not only simple, but also very understandable.
Especially attractive: The Data Recovery Wizard you can not only use on Windows 10, but also on Mac OS and Android and iOS. These versions are free for testing and limited in the amount of data lost.
Basically, all storage media (including SD cards and USB sticks) and partitions of your computer or smartphone durchsuchen.Leerst unintentionally the trash of your computer, the tool also retrieves this data again.
A large FAQ area as well as a 24×7 service including live chat will help you if you do not know what to do despite the intuitive operation.
This is how the data recovery on Windows succeeds
Start the Data Recovery Wizard and select the respective hard disk for recovery. Then click on "Scan".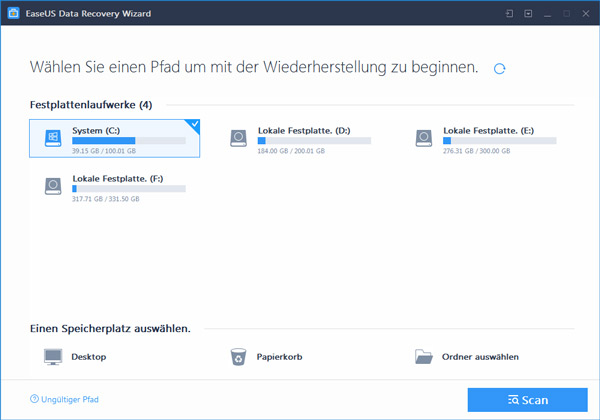 After starting the tool, the hard disk or partitions to be examined are selected and scanned. (Photo: EaseUS)
After the scan, you can find all the deleted files in "Deleted Files" in the directory tree on the left.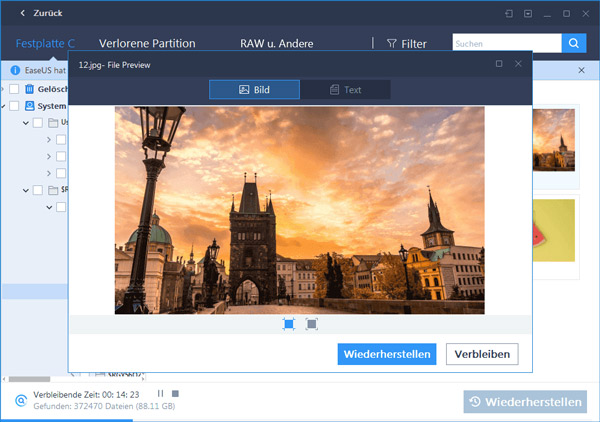 In the preview, the tool lists all deleted files. If the file you are looking for is not there, you can filter it for specific file types. At this point, you can also select the "Recycle Bin" or enter the filename directly in the search box. (Photo: EaseUS)
Now you just click on "Restore". It's best to choose a different location. So you avoid that the respective file at the actual storage place is overwritten.
Conclusion
EaseUS Data Recovery Wizard Free is the powerful software that lets you bring your deleted files back to where they are on different devices.
In the free version, you can recover up to 2GB of data. In the paid version, however, you are unlimited.
---
Your job market in the digital world

We do what we love every day. You can do that too! Over 20,000 dream jobs in the IT and digital world are just waiting for you in the BASIC thinking job market. Just take a look and discover!