page 1 of 10
Previous Next
Camper sharing is a huge trend. According to the Airbnb principle, owners of caravans and mobile homes give their vehicles digitally to other users. One of the leading platforms is Yescapa. We throw in theLocation portrait behind the scenes.
Sharing is caring. But sharing – from bike sharing to boardsharing to carsharing – is also a business model. Because so that users can share their items or means of transport, they need an intermediary. That's exactly where platforms like Airbnb or Blablacar make their money.
One of the latest sharing trends is camper sharing. Because caravans and motorhomes are expensive to buy and are used by owners only a few weeks a year. Therefore, more and more RV owners rent their vehicles via camper-sharing platforms on the Internet.
Yescapa is one of them.
Visiting Yescapa in Bordeaux
The start-up was launched in 2012 by Benot Panel and Adrien Pinson. The French city of Bordeaux has been the company's headquarters ever since. In the international team around 40 employees from nine different countries work for the high season.
In today's location portrait we take you on a tour of the premises of Yescapa.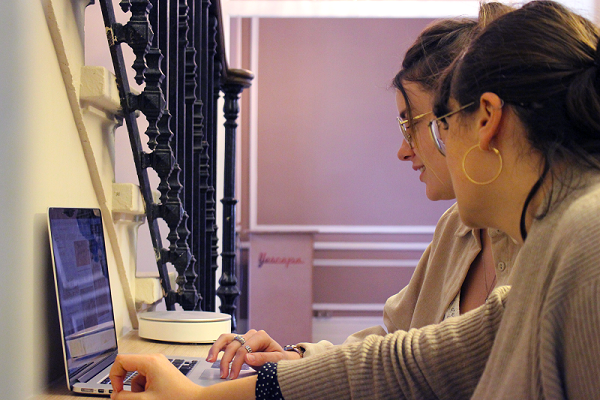 The office is located in a former embassy building. This explains the stylish ornaments and unusual work spaces. (Photo: Company)
Go back and forth with the arrows under the heading.
---
Your job market in the digital world

We do what we love every day. You can do that too! Over 20,000 dream jobs in the IT and digital world are just waiting for you in the BASIC thinking job market. Just take a look and discover!
Also interesting for you
About the author
Marinela Potor
Marinela Potor started out as a classical radio journalist and then became an unclassical (and not entirely voluntary) digital nomad. She has been traveling around the world for 3 years writing on political, social and digital topics.