Since the 2000s, memes are onetheInternet phenomena par excellence. But only few of us know where the funny pictures referring to our everyday life come from. Exactly this question, and how Memes spread, takes a new study under the microscope.
How the social networks would have evolved if there had never been memes? Not to paint. After all, the pictures, which like to take our everyday life on the grain, often for some laughs and bring more humor into the social web.
The graphics can be found everywhere: on Twitter, Facebook, but also on Instagram or Pinterest you can see them. Depending on the situation, the pictures also convey social-critical or political messages.
Like many other formats, memes are also being misused to spread various forms of discrimination – often including racism or hatred against specific social groups.
But where did these motifs come from and how can they spread so quickly?
The origins of Memes
Presumably, the term "memes" was first used by biologist Richard Dawkins. In 1976, he used the word in his book "The Selfish Gene" (The Selfish Gene).
Here are the graphics as ideas that are massively shared and repeatedly changed in popular culture. According to Richard Dawkins, there is a similar process otherwise only in genes.
Today, memes stand for images that relate to a topic and spread on the Internet. They are humorous or ironic, but are now also used for political messages that may include aggressive, racist or hate statements.
Over time, online communities have formed around these motifs. These groups focus on creating, sharing, and sharing memes. The goal is to make the graphics viral. On platforms like Reddit, 4chan or 9gag the images are shared most often.
Research brings to light the success of Memes
Thanks to the research work of Gianluca Stringhini from University College London and the help of his colleagues, one knows more about the distributional success of the images.
At the beginning of their research, the research team first had to figure out which types of memes exist and where they are on the Internet or where they are shared.
For this they used the so-called perceptual hashing (pHashing). An algorithm that transforms an image into multiple vectors, describing the subject as a numeric value. Similar graphics have similar vectors – similar to pHashes. So the team could recognize and track the pictures.
The developed algorithm examined an image database of over 100 million images, which originated from the most diverse online communities. Including Reddit, Twitter, 4chan, / pol / and the new social network Gab – which is also considered a troll stronghold.
700,000 images are also from the website KnowYourMeme.com, a lexicon for memes. This platform supported Gianluca Stringhini and his team in origin and meaning analysis.
The research team achieved a result of over 100 million pHashes. For clustering, they used another algorithm. This summarized commonalities of the collected motives.
Eventually, Stringhini was able to observe how memes change over time. He also noted which images are particularly popular and which online communities best distribute the visual content on the Internet.
The Most Influential Memes Online Communities
Gianluca Stringhini and his team came to the conclusion that two small online communities are particularly successful in disseminating these graphics.
/ pol / influences the Memes ecosystem due to its large number of postings. The_Donald disseminates the images most effectively and manages to divide them into fringe groups as well as most of the social web.
Many hate memes and racist motives are published by / pol / and Gab. Most of the negative memes come from the subreddit group The_Donald.
That's how companies use Memes
Not only online communities take advantage of these graphics. Companies are also using the motifs. For companies, they are an effective marketing tool.
Memes become part of an overall marketing campaign. In many cases, they relax the social media channels of companies and make for amusement.
The car rental company Sixt makes it with his pictures repeatedly in the headlines. Above all in the political events of the day, Sixt keeps creating the balancing act between everyday life and one's own product. A nice example is Donald Trump's famous Twitter typewriter "#Covfefe":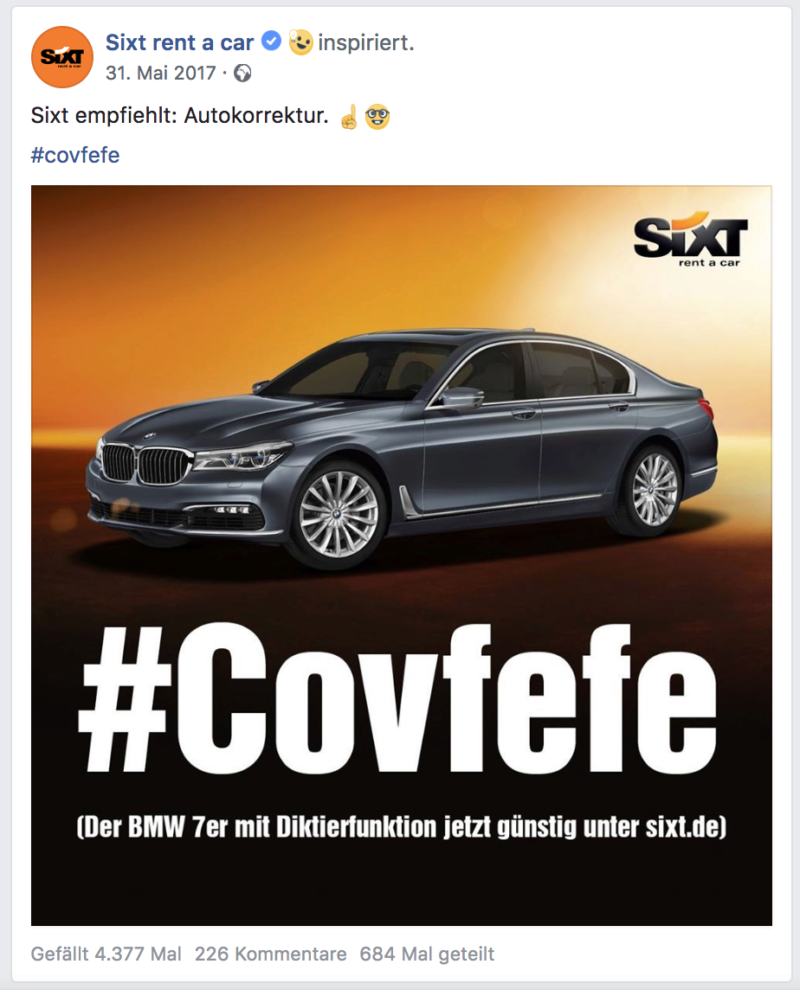 Sixt keeps making headlines with his pictures. (Photo: Facebook / Screenshot)
Memes: A powerful tool on the social web
Two online communities have an impact on which graphics share the most on the social web. Both groups also share negative images.
The study by Gianluca Stringhini shows that memes are not just used for entertainment. They too can influence us positively and negatively. Companies use them in particular for their social media activities.
Whether it's a single person, an online community or a political party, anyone can easily and quickly spread their message through these graphics. If the images are shared by the right community, a viral hit is at least not excluded.
Whether factors such as entertainment and humor will win over hate, racism and other discrimination remains to be seen.
The social web was created by humans – so it will always be emotional.
What are you most fond of using Memes for? In which social network do you find the funniest pictures in your opinion?
Also interesting:
12 social networks that have failed terrificly on Facebook
These are the 10 largest social networks worldwide
Why Reddit is now exciting for advertisers
Social Media Marketing: The most important criterion is engagement
---
Your job market in the digital world

We do what we love every day. You can do that too! Over 20,000 dream jobs in the IT and digital world are just waiting for you in the BASIC thinking job market. Just take a look and discover!