1.1 billion people. So many users are active on Instagram every month. This catapults Instagram into sixth place worldwide in the social media landscape. 
Instagram was born out of a simple idea for amateur photographers: edit snapshots in a jiffy and publish them directly. Instagram has long since left this simple level.
Heut offers you the platform as a user much more: As Instagrammer, you can watch videos, create stories, buy new favorite items, fill up with inspiration, you can miss the rabbit ears or a pig's nose and get in contact with friends in various ways. Everything on a platform. 
Speaking of where we're talking about new features, have you tried IGTV before? 
The social media giants are fiercely competitive. This leads to the fact that constantly new features slosh on the market. Sometimes it is difficult to keep track. That's why we wrote a list of the six things that you should definitely have tested on Instagram in 2019: 
Build an Influencer Marketing Campaign

 

Advertise in Instagram Stories

 

Post infographics

 

Collect and publish user-generated content (UGC)

 

Make vertical videos and publish them on IGTV

 

Make your pictures shoppable

 
1. Build an Influencer Marketing Campaign
Have you ever developed an influencer marketing campaign? 
If you're an active Instagram user, you may have already seen how influencers promote some of their favorite products and services in their feed. Maybe one of these recommendations has ever inspired you to buy the product shown? 
You are in good company. 
We humans tend to follow others' recommendations: we tend to buy products and services when they are recommended to us by someone we trust or look up to.
According to a survey by Lithium, three quarters of consumers rely on recommendations from their personal environment. Marks, in contrast, find it much harder to build such basic trust. Only one third of German consumers rely on classic advertising. 
This is one of the reasons why bigger brands work with celebrities like Usain Bolt, Justin Bieber, Lady Gaga and other stars. But do not worry: it does not necessarily take the big marketing budget to get an influencer marketing campaign going. On the contrary.
A recent study by the software house Bazaarvoice has shown that the confidence of German consumers in brand recommendations of social media influencers is disturbed. For example, 71 percent of German respondents prefer the recommendations and reviews of another client to the recommendation of a well-known influencer.
For your brand, this means that you can reach your followers with local sizes. This can be a popular person from your city visiting your new restaurant or trying out your new service. An industry expert attending an event or testing the latest version of your product. 
In our Influencer Marketing Checklist, you'll find ideas to help you plan, execute, and measure your campaign. 
2. Advertise in Instagram Stories
Have you ever switched to advertising on Instagram? If not, then you should definitely start with it! To place your Instagram Ads in a targeted manner, you can use Facebook data: Facebook Lookalike Audience helps you define new audiences that are similar to your customers.
By advertising on both platforms, you also ensure that your potential customers are reached via multiple contact points. 
If you want to increase your traffic, ads in Instagram Stories are more effective than ads in the image feed. Every day 400 million people look at Instagram stories.
That's a fair amount and shows that the investment is worthwhile. For the best effect, you should produce content in the Stories format: Instagram automatically cuts each image from the gallery to 9:16. This corresponds to the portrait version of the popular 16: 9. 
3. Post infographics
Long captions that explain complex issues are among the Instagram knock-out criteria. But have you ever thought about depicting this content in an attractive infographic? 
If it's your budget pot, you should work with a graphic designer to translate your message into a visual format. If your budget is limited, tools like Canva or Piktochart are a good alternative for you and will awaken the designer talent in you. 
Do not try to put too much information into your artwork. Less is more. If you have a lot of data and facts on a topic, you would rather split into several infographics and publish them as a series. Optionally, you can also create an Instagram story from it. 
4. Collect and publish user-generated content (UGC)
At Flockler, we help numerous companies pull content from various social media channels.And Instagram is by far one of the most popular channels for user-generated content campaigns.
In fact, for many people, it's easier to describe emotions and share what they're burning into in the form of an image, rather than writing a text about it. This makes Instagram an ideal platform for enabling customers to create content. 
A user-generated content campaign offers you the perfect opportunity to identify interesting microinfluencers and build engagement with social channels.
By creating an Instagram feed and playing it on your website, as well as other digital services, you instantly increase the time you spend on them and improve the conversion rate. 
How do you do it right? 
One of our favorite examples is the community page of Planet Fitness. She pushes her most loyal customers on Instagram and then plays the pictures along with posts or videos. This creates an inspirational social hub. 
The heroes of the posts are ordinary people with whom one can identify themselves ideally. This is very well received by the target group. This is far higher than they could ever produce perfectly retouched commercial photographs. 
5. Make vertical videos and publish them on IGTV
IGTV premiered last summer. And while there has not been a massive shift from YouTube and other popular long-form video services to IGTV, vertical videos are a format with a future: most social media users watch content through a mobile device.
It is very comfortable to be able to watch a video without first having to turn your smartphone. Thanks to this comfort, vertical videos increase engagement. 
Try IGTV with a series of short videos. Show your customers how to get more out of your product or service. The format is still quite young. Still, it will pay off for you if you start now.
That way, your team has time to gain experience and can test which content works best. You stay up-to-date on how the channel is developing and where future content gaps are. 
6. Make your pictures shoppable
Tagging products in pictures is a relatively new feature on Instagram. It allows you to mark one or more elements in the image. If someone clicks on the image, they will be shown additional information such as the price. Images with tagged products can be recognized by the little shopper icon, which is placed in the lower left corner. 
Another raw diamond is the shopping channel in the Discover section. Thanks to this, Instagram users can find products and access product pages without leaving the app. This is great news for all ecommerce websites. Because the probability that a user completes their purchase increases when the shopping experience seamlessly integrates with the Instagram user experience. Instagram is currently testing Instagram Checkout with selected partners such as Adidas, Burberry and Kylie Cosmetics. 
If you also want to make your Instagram pictures shoppable on your own website and mobile application, try Flockler. With the help of Flockler, GlassesUSA presents the Instagram images of customers in its social shop and tags the products used.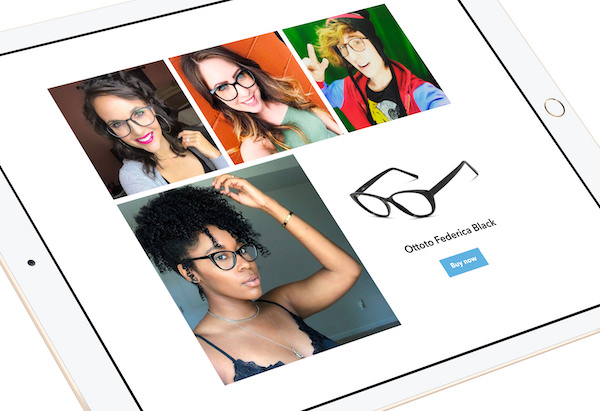 You are looking for even more inspiration? Our blog post "3 Ideas for User-Generated Content in E-Commerce Marketing" will give you more valuable tips.
---
About the author:Flockler is a content marketing and social media aggregator tool that seamlessly integrates social media content into existing websites. With Flockler, companies are taking their influencer marketing campaigns off the ground: in social content hubs integrated influencer content brings credibility, interaction and reach; and Fooller's analytics tools make it easy to identify influencers.
---
Your job market in the digital world

We do what we love every day. You can do that too! Over 20,000 dream jobs in the IT and digital world are just waiting for you in the BASIC thinking job market. Just take a look and discover!