In the series "Homescreen!" We regularly present you the home screens of people from the social media, marketing, media and tech world – including exciting app recommendations and tips for everything from to-do lists to small games for in-between. Today: Tim Bker, founder and CEO of the e-commerce front-end agency Kommerz.
As a designer I live according to the principle "Less is more". This also applies to my home screen. I have a fixed tool set, which I have well thought out for my everyday life and which I use depending on your needs.
In principle, I have apps in three categories: news and music, communication and everyday aids.
Wake up with the Deutschlandradio
When it comes to news and music, for example, I activate the app from Deutschlandradio (for Android) right after getting up and get my daily portion of current news and culture.
I hear music and podcasts as probably almost all about Spotify (for Android). And in the evening, I get a compressed and reputable overview of the most important events of the day via the Tagesschau app (for Android).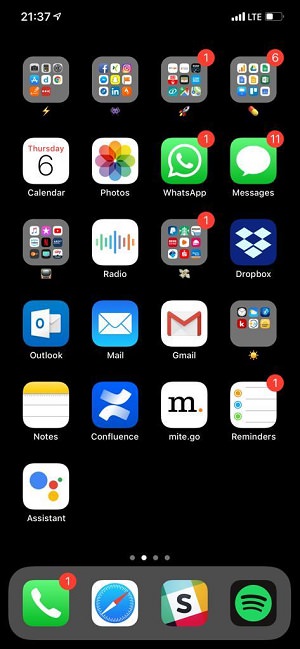 The home screen of Tim Bker, founder and CEO of the e-commerce front-end agency Kommerz.
For communication at work
Essentially, I organize my communications via Apple Mail for emails and WhatsApp (for Android) for sharing with friends.
In communicating with the team, Slack (for Android) has proven to me the most viable solution. This makes it easy to share information and files and find them much better than with WhatsApp, for example.
What I also increasingly use is the Google Assistant (for Android). It's just a lot more practical to quickly talk into the device at which gate my plane is going than to look at the scoreboards yourself or googling manually.
The Germans and the mobile payment
And what I actually do not want to miss anymore is the Paypal app (for Android) to pay. I really do not understand why the Germans are so difficult with mobile payment. For me, this is a very comfortable and convenient alternative to traditional payment methods.
I've been faithful to my app tool set for years. Actually, I have not actually deleted any app lately. On the contrary – most of the above I use several times a day. Ascending trend.
Also interesting:
Home Screen! A look at the smartphone by Johannes Paysen
Home Screen! A look at the smartphone by Willms Buhse
Home Screen! A look at the smartphone by Lisa Gradow
Home Screen! A look at the smartphone by Gero Schmitt-Sausen
---
Your job market in the digital world

We do what we love every day. You can do that too! Over 20,000 dream jobs in the IT and digital world are just waiting for you in the BASIC thinking job market. Just take a look and discover!
Also interesting for you
About the author
Christian Erxleben
Christian Erxleben has been Editor-in-Chief of BASIC thinking since the end of 2017. Previously, he worked as Head of Social Media and Head of Social Media at BASIC thinking. His way to BASIC thinking was via the Nrnberger Nachrichten, Focus Online and the INTERNET WORLD Business. Professionally and privately he loves and lives social media.