For the first impression, there is no second chance: a wisdom that many entrepreneurs and solo singers have often heard. In the digital workflow with customers and partners, it is therefore important to shape their own brand. Branded links are an aesthetic feature that sharpens your brand – even home users benefit from this feature.
It usually only takes seven seconds for a customer of you and your work to form a first opinion. Whether medium-sized software company, independent web designer or freelance wedding photographer: the first impression counts and should countNotbe given away.
Recognizing your brand is very important to keep you in the minds of your target audiences and your customers. With appropriate branding throughout the customer experience, you'll place a unique message that sets you apart from the competition and optimizes your visibility.
Branded links sharpen your profile and make you unique
The cloud provider pCloud helps create a more professional approach and excite your customers with a unique solution: branded links can express your personal touch and leave an impression on customers and partners.
Whether you, as a photographer, share videos or photos with your customers, or as a business, provide a customer with a particular white paper, branding your download links expresses your own style that benefits your brand.
A download link is the easiest way to share data with your customers in a convenient way – whether it's a single file or multiple files.
In addition, you can easily find out who is following your branded links and who has seen the download.
This is how the branded links work with pCloud
In addition to the advantages mentioned, you can now "burn" links and create graphic elements. So you can customize download links quite creative according to your own wishes:
The title picture
For example, here you can put your company's logo or a meaningful picture for a photo album that you share with your client. Private users can also graphically live out here and insert, for example, an album cover for their favorite playlist.
The heading
This option allows you to specify which files you provide to your customer. If you release only one file, you can include a caption here.
The description
This option is for example to insert a small anecdote for your customer. So he gets more detailed information on how it came to pictures, which story is behind it or what he should know to a file of background information. Likewise, here you have the opportunity to place your contact information and make the description a business card.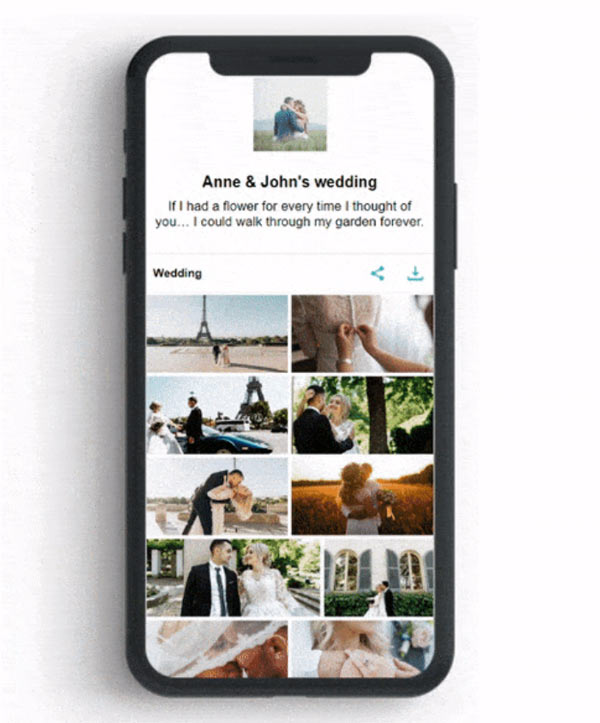 With a cover image, a headline, and a description, you have creative ways to visually spice up your branded link and provide your shared files with important information.
Branded links make you and your brand more credible
Each brand consolidates the brand and its external image with customers and partners. That's why branded links help you and your business build and strengthen a unified brand identity.
At the same time, a branded link also symbolizes a brand promise to your customers and prospects that the link also leads to the file provided or a specific file folder.
Branding your links not only makes you more self-confident as a company, but links make your download more aesthetic.
For outsiders it may sound insignificant. But it has been proven that customers prefer to click on beautiful links in a handsome graphic style as a download made up of randomly scrambled rows of letters and numbers.
Because: The eye eats – even in the digital world – with.
Branded links will enhance the appearance of your download
The branding of your download links offers many benefits that go beyond the purely aesthetic. A consistent presentation ensures trust in the collaboration between your company and your partners. And beyond that, they contribute to a consistent brand identity.
You would like to stand out from the crowd, give your brand more profile and meet your customers more professionally? Then convince yourself and try out the branded links of pCloud itself.
Watch now
---
Your job market in the digital world

We do what we love every day. You can do that too! Over 20,000 dream jobs in the IT and digital world are just waiting for you in the BASIC thinking job market. Just take a look and discover!