Are you at the end of your education, your studies or even years in the employment relationship and looking for new challenges? At the same time striving for work-life balance and longing for enough time for family and friends? And perhaps the most crucial thing: you finally want to be financially independent?
Then you should now start your freelancer adventure, because the industry is booming: According to Freelancer Compass 2018, the hourly rate in the IT and engineering industry in Germany, Austria and Switzerland has now risen to 91.05 euros. When will you finally start as a freelancer?
Professional, alumni or employee: These advantages convince everyone!
You are independent – Goodbye Meetings and core hours:As a freelancer, you are your own master. You are your own business, meetings are only between you and your customers and you work regardless of time and place.
You decide – strategy, conception and implementation in your hands:Team-internal discussions and coordination with team leaders are past as freelancers. You are responsible for the strategic planning, design and implementation and do your job at your own discretion.
You choose your customers – focus is good but diversity is better:As a freelancer, you decide what jobs you have to work on. Once you have achieved a certain standing, clients are always interested in your know-how and recommend you to others. So you can expand your network, but also accept many different projects and get to know different, exciting industries.
You earn more – forget salary negotiations!Forgot salary negotiations with the management and comparisons with the better-earning colleagues. Determine your hourly rate or flat rate yourself. The best part: Only your negotiating skills decide on the revenue.
You are at home – study or co-working space?As a freelancer, you have home office every day, either in your own study or in the coworking space – you decide where and how you work.
Hourly rate, Acquisition and Reserve: Avoid these typical initial mistakes
It all starts with a difficult start – the freelancer business also has a number of hurdles to watch out for. Therefore, you should avoid these initial mistakes as much as possible: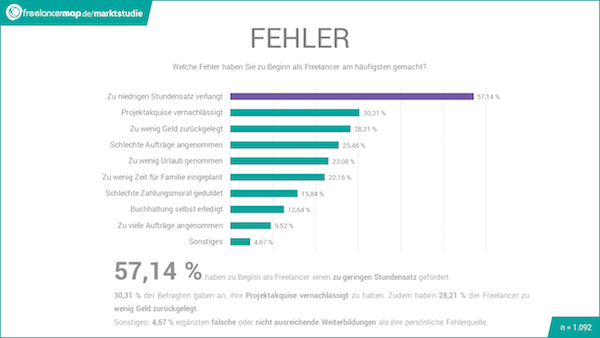 Thetoo low an hourly rateis the most common mistake that freelancers make at the beginning of their free time. Be self-confident, appreciate your skills properly and financially realistic.
Also theproject acquisitionFreelancers see a big hurdle, here it is necessary to ask for recommendations and also to offer their own expertise at networking events.
In third place are the biggest mistakesdeficient or missing financial reserves– Especially at the beginning you should save yourself a necessary buffer, so that you can also catch losses of earnings. Interesting too: Freelancers indicate wrong or insufficient training as the least personal source of error.
That means for you: Do not be afraid if your education or study is not sufficient in your opinion – it counts your skills and your know-how, which you can also acquire along the way.
The checklist for successful freelancers: You have to pay attention!
Benefiting from the advantages of the freelancer business is far from being a matter of course, but if you keep these tips in mind, nothing stands in the way of a successful career:
# 1 Preparation is everything: from business plan to self-motivation
Being a freelancer is not a quick shot – take enough time to accept the project of self-realization. Make a business plan, find your niche, get an overview and check regularly if you are still faithful to your goals. Figure out how much capital you need to survive the first year.
Determine what costs are coming and plan for risk factors such as illness and ongoing customer acquisition. Also: Find out about funding, loans to intercept loss losses. Even the soft skills self-discipline, optimus, realism and motivation are very important. 
# 2 Observe legal regulations – hire tax consultants
Before you can get started, you should be able to answer legal and tax questions. A report to the tax office is the first step into self-employment.
At the same time, you should also opt for a statutory or private pension and health insurance and also think about supplementary insurance. In addition, the topic of legal form is extremely important, because freelancers are liable with their private assets if they do not found a UG or GmbH. 
Tip:There are special tax consultants for freelancers – give tax-related topics to an expert in order not to experience a nasty surprise here.
# 3 Optimize Administrative Tasks – Tools for Accounting and Co.
The bookkeeping should also be submitted to tax experts, unless you have as a freelancer:
Basic knowledge of accounting

 

tax background knowledge

 

enough time
Accountants on call for detailed questions
Sufficient knowledge in dealing with accounting tools, such as Billomat
The topic of time management is one of the administrative hurdles, here are tools such asClockodoo, Jephi or Timicxon. When communicating with clients, you should play it safe and ensure data protection with DSGVO-compliant messengers such as Wire.
# 4 Create your personal brand
First and foremost, you define your own brand in the business plan. It has to be 100 percent consistent with your own project, with clear goals and the message.
Give your company a name and create a logo to be visually present. After that, it's up to you to build the brand, maintain a positive reputation and optimize recognition. Also, monitor monitoring of current trends and competitors – this is the only way to stay successful over the long term.
# 5 Define Target Group – Characterize Buyer Persona
Create a "wish list" of your customers and evaluate demographic information. At the same time, check which viewpoints, attitudes and personality your clientele has. Only by accurately identifying your target audience can you convince with your service, pitch, and order.
# 6 Own website is the must-have – search engine optimization too!
Visitors to your website should quickly recognize your specialization and skills. There references and their own service portfolio should also be presented. Search engine optimization plays a decisive role in this, in order to be found even without networks or contacts. 
# 7 Use and monitor social media strategy
First, determine which networks are actually relevant to increase your awareness, improve your image, sprinkle important information, or attract new customers.
Also, plan a campaign budget, create a content plan, rely on appropriate, channel-specific posting times, and watch trends. Set yourself key figures and check and optimize them regularly.
# 8 Customer acquisition – self-conviction for your own performance
Inspiring customers for you should be the easiest part of your job. You are behind what you do and you have to get your skills together in writing and writing. Customer acquisition is never completed, it just changes.
You should attend trade fairs, seminars and business events on a regular basis and be happy to use the phone or a personal meeting instead of the fast-paced e-mail. This creates trust and closeness to the customer. 
# 9 Maintain your customer relationships with a CRM and use industry portals
Do not forget old customers and use a Customer Relationship System (CRM) to contact past clients on a regular basis. On freelancer portals like freelancermap you can search for suitable orders or project partners.
Industry-specific search filters and a variety of open projects help you to get exciting and lucrative projects. A profile on platforms like this also lets customers approach you, so that part of the acquisition does not apply to you.
# 10 Never stop – driving your own development forward
View your own capabilities as a product and keep an eye on goals and visions as part of your own business strategy. Self-coaching, further education and workshops will help you to develop yourself and to learn it yourself.
Incidentally, further development also means increasing prices over time as your expertise and portfolio grow steadily. This is how you calculate your hourly rate correctly.
# 11 Work-Life-Balance – Separate private life and work
In order not to get into stress situations, it is important to separate private life and work from the beginning. In addition to project acquisition, freelancers see the work-life balance as their biggest challenge in everyday life: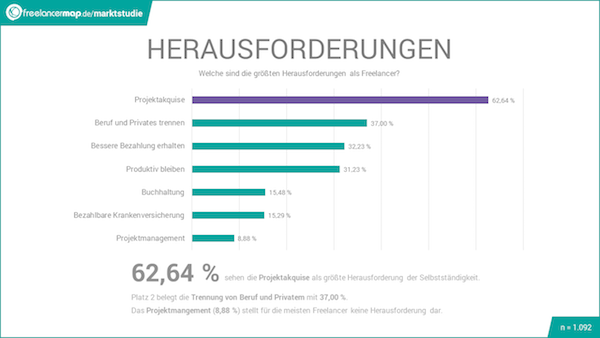 These four tips help to separate private and professional life:
Create a job:Build an office in your own home or a place with little distraction to stay focused.
Set working hours:The more concrete, the better – stay firm and start or finish the work at fixed times.
Note down office hours for customers:Fixed times for communication with clients make the processes easier for everyone involved.
Take a vacation:Freelancers take an average of 26 days of vacation – be sure to give you plenty of time to get off work and work while working.
Are you readyfor the exciting and lucrative adventure "Freelancer"? Register now for free at freelancermap and create your own freelancer profile in a few minutes. Your start into freelance independence!
---
About freelancermap:As a pioneer of digital job placement, freelancermap specializes in clients and highly qualified freelancers in the IT and engineering industry. Founded in 2005 as an open marketplace, the company has since become a trusted resource for finding experts and contract projects. The annual Freelancer Compass is an extensive study by freelancermap and highlights trends and tendencies to current developments in the freelancer market. CEO of the Nuremberg expert platform is Thomas Maas.
---
Your job market in the digital world

We do what we love every day. You can do that too! Over 20,000 dream jobs in the IT and digital world are just waiting for you in the BASIC thinking job market. Just take a look and discover!