In the series "Homescreen!" We regularly present you the home screens of people from the social media, marketing, media and tech world – including exciting app recommendations and tips for everything from to-do lists to small games for in-between. Today: Ruben Horbach, Head of Innovation and Digital Strategy at Etecture.
You might think that I may have an addiction to an app, yet: Each of the current 265 apps on my smartphone has their right to exist. Some apps are useful, others are boring and others are just beautiful.
The digital world is my home and I am curious and always anxious to find out what's new.
So as not to lose track, I put all the apps in thematic folders: social, photography, audio, travel, finance, and so on. Even though I do not use them all on a daily basis, I rely on contextual availability.
to travel
I currently live in Amsterdam, but I work in Germany. Alone for these trips, I use several apps that support me. My travel folder contains 51 applications. Following a selection of my favorites:
Uber (for Android) is the number one travel app when it comes to transferring between the airport and the destination destination.
With App in the Air (for Android) I keep track of my flight data. It provides a fantastic overview of past and upcoming flights and provides live updates. The latter function is charged.
Coup (for Android) and Lime (for Android) provide means of transport for the so-called last mile in selected cities with just one click.
When I travel by boat in the Amsterdam canals, Vaar Water (for Android) allows me to see all available routes.
Productivity and work
Today we work increasingly independent of location and time. It is important to organize yourself and your team well. Here are the top apps that support me:
The complete Microsoft Suite is very useful for to-do lists, task distribution, general communication, or even document sharing.
Miro (for Android) is a great whiteboard app that allows you to collaborate efficiently.
To save my data securely, I primarily use these apps: For work-related files, I use One Drive (for Android), my personal files are stored in the iCloud and my personal projects in the Dropbox (for Android).
Keynote is a wonderful and easy-to-use presentation program. The app is definitely one of my most used apps on all my devices.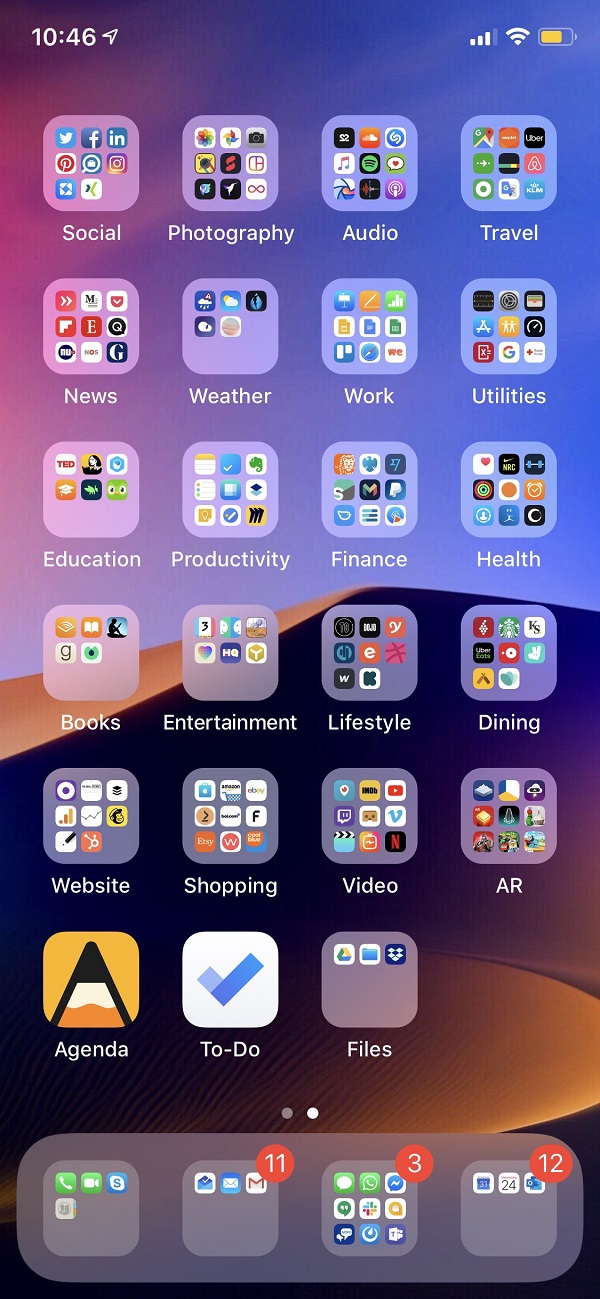 Homescreen by Ruben Horbach, Innovation & Digital Strategy Manager at Etecture.
to eat and drink
Good food is an integral part of my life. That's why I have a few apps that help me with cooking or help my girlfriend and me, if we want to put the task in other hands:
Kitchen Stories (for Android) is an absolute gem of my apps. It shows a great variety of recipes with shopping lists and explanatory videos. At the beginning of the week, I often search the courts and decide what I want to cook for the next few days.
Vivino (for Android) is the app that gives me an overview of the wines I consume.
Open Table (for Android) I use for restaurant reservations. But unfortunately not every restaurant is stored there.
I order the pizza for home via Uber Eats (for Android) or Deliveroo (for Android).
health
Between a challenging job and a busy personal life, fitness is essential to staying healthy. With these apps I train:
Thanks to One Fit (for Android), I have the opportunity to go to several different gyms and attend courses of my choice.
Strong (for Android) is the app that keeps track of my individual workouts. It's a nice and easy-to-use app with no frills.
To be able to hear my podcasts "TED Radio Lesson" with Guy Raz or "Intelligence Matters" with Michael Morell during training, I mainly use Breaker.
With Nike Run Club (for Android) I prepare for my next half marathon and let her measure my progress.
test phase
I tend to download many apps and test them for a while before either putting them on my devices or deleting them. This selection is currently in my trial phase:
Wonderscope is an amazing augmented reality app that aims to tell interactive stories for kids. A wonderful tabletop AR experience.
Eyejack (for Android) is another AR app. It's a pretty easy way to create AR experiences for artwork.
Shortcuts enables users to create automated workflows within the Apple ecosystem. A fantastic add-on app that adds value if I did not forget it all the time.
Also interesting:
Home Screen! A look at the smartphone by Marius Lissautzki
Home Screen! A look at the smartphone by Christof Szwarc
Home Screen! A look at the smartphone by Eva Arndt
Home Screen! A look at the smartphone by Stefan Schtz
---
Your job market in the digital world

We do what we love every day. You can do that too! Over 20,000 dream jobs in the IT and digital world are just waiting for you in the BASIC thinking job market. Just take a look and discover!
Also interesting for you
About the author
Christian Erxleben
Christian Erxleben has been Editor-in-Chief of BASIC thinking since the end of 2017. Previously, he worked as Head of Social Media and Head of Social Media at BASIC thinking. His way to BASIC thinking was via the Nrnberger Nachrichten, Focus Online and the INTERNET WORLD Business. Professionally and privately he loves and lives social media.