Instagram has redesigned its Explore page. The platform now shows even more specifically what content, profiles and hashtags we might like. But how do you manage it with your brand on the side? In this guide, we'll explain everything you need to know about Instagram Explore.
Instagram Explore is designed to help private profiles and businesses generate new followers with little effort. On the basis of our personal interests, the site suggests what content we might like. These include new photos, videos, products, hashtags and now stories.
What's new in Instagram Explore?
Instagram has been working on making the discoverer feed even more personalized and tailor-made for the users.
The own Explore page probably looks quite different from that of our friends. Because it is designed to propose new content based on what we already like on Instagram.
The Instagram algorithm is constantly learning from our habits with the app. For example, from which profiles we follow, which posts we like or which we comment, and which Instagram stories and IGTV clips we look at.
Instagram uses this information to create our own explore page and suggest content from profiles we do not yet follow.
Update 1: Instagram Stories on the Explore Page
Instagram Explore proposes you new photos and now also Instagram stories. So you can discover stories of interesting profiles that you do not yet follow.
Conversely, the brand feature is a new way to be seen by non-followers as well. This allows companies and influencers to reach new users.
For your stories to appear on the Explore page, you should use all the features available to you: Use the site and hashtag stickers, create surveys, and so on.
According to Instagram, the feature is being rolled out. So if it's not visible in your Instagram Explore, just stay alert.
Update 2: navigation bar with IGTV, shopping and new categories
More than 200 million users visit the Explore page every day. Since it makes only sense that Instagram also improves the navigation bar and provides a better overview.
Under the search function and the name tag, we find shortcuts to Instagram TV (IGTV), shopping and personalized channels on various topics. We can filter posts in categories such as sports, food, travel, art and music.
So what do you have to keep in mind if your brand is to appear on Instagram Explore? Above all, it's more important than ever that you focus on niche topics and use hashtags to categorize your posts. In generic categories, they are easily lost.
Update 3: IGTV on the Explore-Page
Moving picture is the strongest format. Instagram knows that, too, and has given IGTV its own Explore section. We can search for longer clips of profiles that we do not yet follow.
IGTV was launched in June 2018. Originally, creators should use the in-house TV channel to create exclusive portrait-oriented content. With that, Instagram wanted to break away from other platforms like YouTube.
The imposed format was not particularly good. Many creators simply published their clips horizontally.
Therefore, Instagram has abandoned its unique selling point: IGTV now supports videos in landscape mode. For Creator, the update means less effort. Finally, YouTube videos are now easily transferred to the photo platform.
Update 4: The Shopping Channel
Shopping on Instagram gives companies the lucrative opportunity to sell their products through the platform. These shopping posts can now also be found in the Discoverer feed if we are not subscribers to the business profiles behind it.
We can browse the shopping channel to your heart's content, discover new brands and add products to our own collection – similar to a wish list.
Instagram suggests new things based on the brands and products we've been looking for or already bought.
So you come on Instagram Explore
Here are four useful tips for you to land quickly and successfully on the Explorer page.
Tip 1: Find out what content your target audience likes
Maybe you've wondered why some of your posts are generating a lot of likes. This may be because your posts already appear on Explore pages and are seen by many users without you knowing.
The good news: With the Instagram Insights analysis tool, you can find out exactly how many users are watching your posts through the Explorer feeds.
In addition, Instagram Analytics also helps you to determine the content with the most views. You can use the results to create similar posts.
For example, you can reuse postings that are particularly well received and thank the followers for their positive feedback in the new description.
Tip 2: Post at the times your community is active
If your audience is on Instagram, you have to be. Your posts will generate more likes and comments when your followers see right away.
High engagement – especially right after posting – is also a strong signal for the algorithm. It shows that your content is popular with your followers. So Instagram rates your posts as valuable enough to show to other users in the Explore feed.
In addition, chances are good that your followers and potential new followers are online at the same time. You'll see your posts immediately.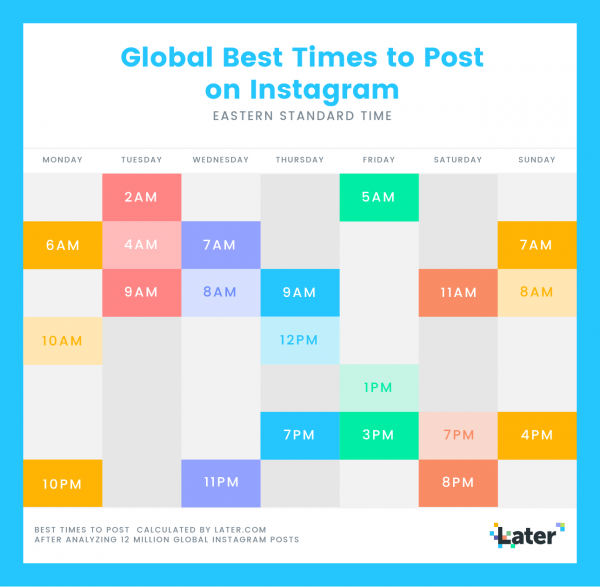 The best time to post is usually between 15 and 17 o'clock. (Photo: Screenshot / Later.com)
The Instagram Bloglaterhas analyzed 12 million posts and found that the best time to post is often between 3pm and 5pm.
But beware: Different profiles also have different audiences. Therefore, you should analyze your followers and find out for themselves when they are most active.
Tip 3: Use relevant hashtags
Whether you love it or hate it, you can not get past Instagram on hashtags. Posts with hashtags are seen more often, so more often liked and commented.
They also appear on Explore pages of users who already like posts with the same hashtags. Just be careful to be strategic. You should use niche hashtags that are relevant to your product. Otherwise the posts will be lost quickly.
Tip 4: Produce more videos
Videos play a central role on the Explore page. Instagram displays usally posted clips and IGTV content four times larger than photos. Now the stories are added.
The tech magazineTechcrunchhas also worked out that "videos are potentially placed higher than photos because they are automatically played and attract more attention."
Creating videos usually takes some time. But there are a few apps with which we can realize moving image content even without much effort.
Withboomerangwe can make funny clips that move back and forth like a boomerang.
The appInshotallows us to integrate animations into a photo.
WithLife Lapsewe can create simple stop-motion content.
And design apps likeoverandMojohelp us to insert video elements in pictures.
Instagram Explore is a great opportunity for more reach
What do we learn from this? Instagram Explore is an important point of contact for the community to discover new, personalized content and profiles. The new update will make sure that companies and influencers are more concerned with IGTV, Stories and Shopping.
Those who do not use the features will not show up in the respective categories and will have a great chance to reach new fans, followers and customers.
Also interesting:
How to Build a Vibrant Instagram Community
The hashtag tag: The reach-booster for your Instagram stories
Why an Instagram without likes would be a better Instagram
10 Influencer Fails on Instagram, for which we are ashamed
---
Your job market in the digital world

We do what we love every day. You can do that too! Over 20,000 dream jobs in the IT and digital world are just waiting for you in the BASIC thinking job market. Just take a look and discover!